Emma Murphy is a 26-year-old mother of two, and runs a fitness blog.
But she suffered continual domestic violence and has a black eye, and she shared why with the world.
Emma confronted her partner on Friday about an affair he had while she was pregnant – and she talks about the black eye she suffered because of it.
"Even once is unacceptable," she said in the video, "but to be made to feel that it is acceptable is even worse. To be made to feel that you're paranoid or insecure. That's mental torture, and no man should do that to any woman."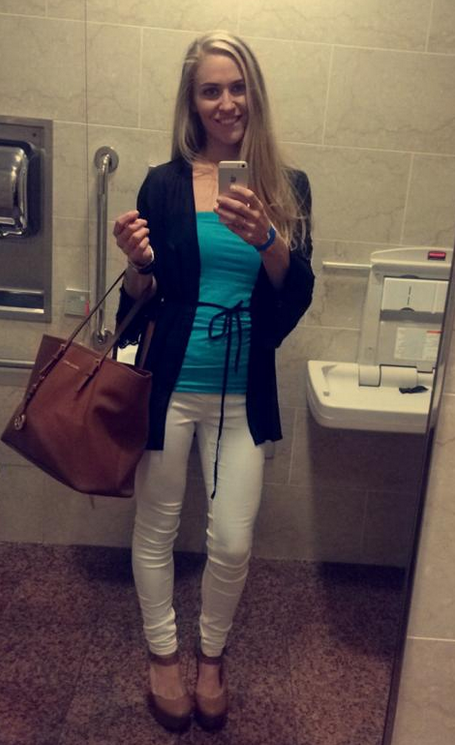 The video has had more than 2.9 million views and has more than 137,000 like and 82,000 shares.
She has received support online after sharing her video.
One user wrote:
"I hate this video for all the right reasons. I hate it because you have needed to post this video. I hate it because of what happened to you. and I hate it because you're not the only one who has suffered like this!………. But I also love this video – I love it because you had the strength to walk away, to leave. I love it because you've created (sic) this video to raise awareness, to help other people in similar situation do the best for themselves and walk away. I love it because you have done the right thing for your children – sure its going to be hard bringing them up on your own (until a REAL man requests the honour of looking after then and you) but living without your father is a MUCH better option than living in constant fear of your father and what he might do to you or your mummy. No woman or child should ever have to endure what you've been through. I apologise on behalf of all the decent men out there for what an animal has put you through. Please remember that we are not all the same. My respect to you for having the courage to post this video and for helping others."
Another user wrote:
"I've never been moved so much by a FB video .. thanks for sharing and being so strong – through your video you are inspiring (sic) women and men to stop this kind of unacceptable behaviour."
She spoke bravely about her experiences of having a violent partner – a man she once thought was the love of her life.
"You think you know somebody," she said, her face still bruised from the attack.
"I loved him so much that I tried to forgive him and I gave him another chance and I took him back. Unfortunately I found out that he did it again."
Her final plea is for women who have experienced domestic violence.
"So now I'm a single mother of two," she said.
"Unfortunately, when they ask where their daddy is, he's not going to be around, he's not going to be here for them anymore. Our lives are completely torn apart."
She added, her voice breaking, "And they're going to know that their daddy hit their mummy, and that's not something that children should see at all.
"So if anyone out there has gone through something similar to what I've gone through, you need to find the courage and get away from anything that's an unhealthy as violence. Go to your friends and family, people who love you and care about you."
Want more? Get more from Kyle & Jackie O!