Are you bored at home during these iso times?
Well, we've got the perfect remedy for you – it's time to switch things up a little, and get fancy in the kitchen!
CommSec have reported alcohol sales going up by a whopping 86% and Odyssey House NSW, Australia's largest and most successful rehabilitation service, have seen a big jump in clients seeking support.
The COVID-19 measures are putting pressure on all Australians' mental and physical health, meaning it's the perfect time to check in with each other.
The 'Big Party In' is an opportunity for all of us to help each other to swap to a healthier alternative, and donate the money saved to Odyssey House, NSW.
So, swap alcohol for a mocktail at your lunch, arvo or evening drinks between Friday 8th May and Friday 29th May and join in with this fundraising challenge!
Find out more, and sign up now at www.bigpartyin.com.au!
Need inspo? Check out our fave 'Mocktails for May' swaps below.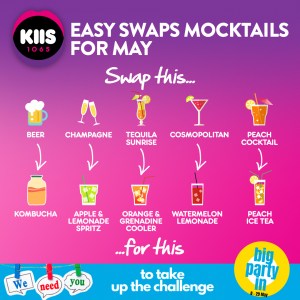 Want more? Get more from Kyle & Jackie O!