If you've seen the photos of Elsa Pataky and Chris Hemsworth's GINORMOUS home being built on the idillic coast of Byron Bay, you may have been mistaken like Kyle and thought that it was a Westfield Shopping centre.
It literally looks that big that it could fit everything from a Myer to a Food Court in there!
And so of course when Elsa Pataky joined Kyle and Jackie O in studio this morning to chat about her new book Strong, the first thing they wanted to know about was that house and what's inside.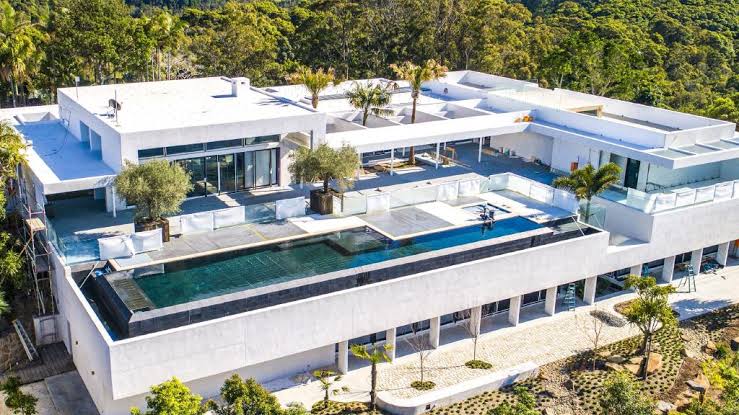 Elsa told us that the mega mansion is still having work done on it and so they haven't moved in yet, but they will be very soon!
"When do all the shops go in there?" Kyle joked. "How many stores are you putting in there?"
"Seriously, it's not that big," Elsa said modestly. Because honestly, the photos make it look THAT BIG!
"The problem is all the photos of all those drones are all from the top," she continued. "And the top is like a lot of the outside areas. They look like the inside areas and they're not. There's a house to live a lot outside.
And why wouldn't you make use of the incredible Byron Bay weather with tons of outdoor living spaces!
"We just put a big roof for the solar. That's it. That's the only thing that we wanted is to have solar," Elsa added.
Jackie wanted to know what the best part of the house is and what Elsa and Chris are most looking forward to when they move in.
And based on how Elsa and Chris look, it's no surprise what the answer was.
"I have to say I have a big gym," Elsa revealed. "That's where we spend a lot of time Chris and I. This time he was like, 'I want a great gym', because he loves it.
"And it looks like it's crowded with all those machines. I was like, 'are you sure you need all this?'. But he does."
Elsa also told us about how her and Chris came to live in Byron Bay. As it turns out, they once made a pact not to live in either of their home countries so as not to be unfair to the other. But after visiting Byron for a holiday, Elsa told us she fell in love.
"I was there and you know my family was in Europe so it's pretty far and I didn't want to be that far from my family," Elsa explained.
"But we just came for a weekend and then we were back in LA and we were deciding where to live and Chris was like, 'What about Byron?' and I was like, 'Oh I love Byron!'.
"I love it. Every time I come to Spain they are like, 'Do you think you will come back to Spain?', and I'm like, 'Hmm I don't think so'."
We're certainly jealous of the Hemsworth's life up in Byron! Can we swap lives Elsa?
Hear more from our chat with Elsa Pataky in the video above!