An elderly couple's wish to die in each other's arms has come true, just days before what would be their 75th wedding anniversary.
Jeanette and Alexander Toczko of California's love story could easily be mistaken for a movie plot.
'Dating' from eight years old, married in their early 20s and together until their final breath.
Unfortunately several weeks ago Alex suffered a broken hip which saw his health begin to deteriorate quite rapidly.
Seeing the love of her life in pain also saw Jeanette begin to face her own medical issues.
The couple knew their time was coming to an end but their 75th wedding anniversary was on June 29 and the pair wanted to hold out to have a final celebration together.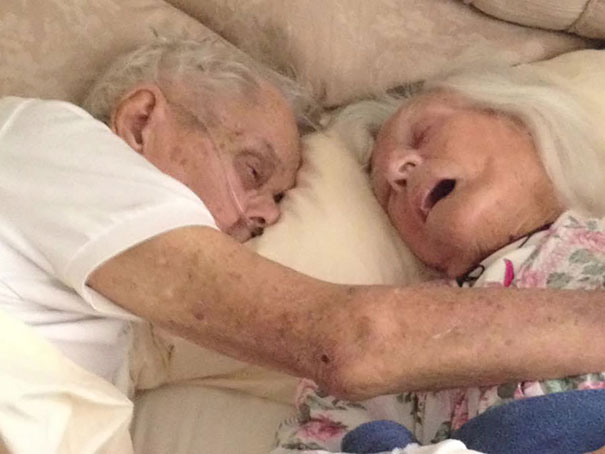 On June 17, Mr Toczko asked what day it was, claiming it was in fact their wedding anniversary – knowing their father was in poor health, the family went along with the slightly altered date.
Celebrating their final wedding anniversary side by side in their own home was a moving affair.
But it seems Alex no longer felt the need to hold on any further and passed away later that day in his wife's arms.
One of the couple's five children, Aimee, broke the news to her mother, but Jeanette seemed to take the death of her lifelong partner as well as she possibly could.
'I told my mother he was gone,' she told 10 News. 'She hugged him and she said, "See this is what you wanted. You died in my arms and I love you. I love you, wait for me, I'll be there soon".'
Less than 24 hours after, she too passed away, while still in his arms.
Listen to the full story of their love affair in the moving video below, on the day the couple were buried side by side.
H/T: 10news.com
Love this? You'll love this bit from Will & Woody – catch the boys weekdays from 4PM on KIIS 1065