If you're looking for your 15 minutes of fame and have an epic pimple, zit, cyst or growth that will surely make people squirm and you don't mind showing it off for the world to see, then Dr. Pimple Popper wants you!
California-based dermatologist Sandra Lee MD, also known as Dr. Pimple Popper to her millions of social media followers, is casting for her new TV show that is starting very soon and you could easily take part. All you need is some icky/fascinating skin issue!
"Do you have a lipoma, cyst, or large growth? Is there something on your body that is oozing, draining or bleeding?", reads the advertisement. "Are you looking for help with your undiagnosed skin condition? Have you seen a Dr. Lee video and thought 'I have that too!'."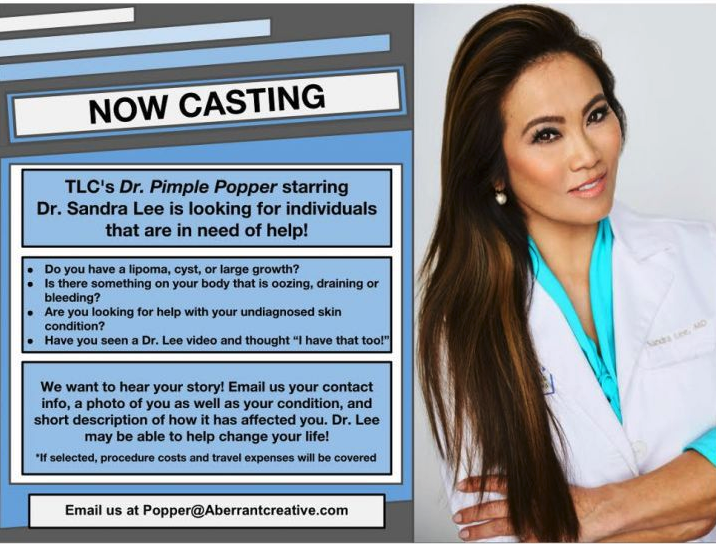 If this sounds at all like you, all that you need to do to be considered for the part is email popper@aberrantcreative.com with your details, some information about your condition, and a short description about how this condition has been affecting your life.
Now of course you might be a bit concerned that this show is taking place over in the US, but don't worry because travelling to California for the disgustingly amazing TV show part won't cost you a cent!
The ad clearly states that if your weird skin condition gets you chosen for the series, they will pay for the costs of travel and the procedure! And there doesn't appear to be any terms and conditions that state that international travel, say from here in Oz, isn't included!
So if you want this to be you:
And you're ready to pop, literally, on screen, then why not go ahead and apply! Your TV show fame could start with something wonderfully disgusting as the pimple on your forehead.
Love this? You'll love this bit from Will & Woody – catch the boys weekdays from 4PM on KIIS 1065