Could this be the future for parents traveling with young kids?
Volvo thinks so, releasing the concept designs for it's car of the future in which small children would take the front seat – quite literally.
The car company says the new designs were the result of wanting to make life easier for parents and safer for their children.
"For us the safety, convenience, and emotional factors outweigh everything else," says Chief Interiors Designer, Tisha Johnson.
"Being able to maintain eye contact with your child from the rear seat , or being able to keep a bottle warm in the heated cup holders in the XC90 Excellence, would go a long way towards making life easier for parents taking their small child on a trip."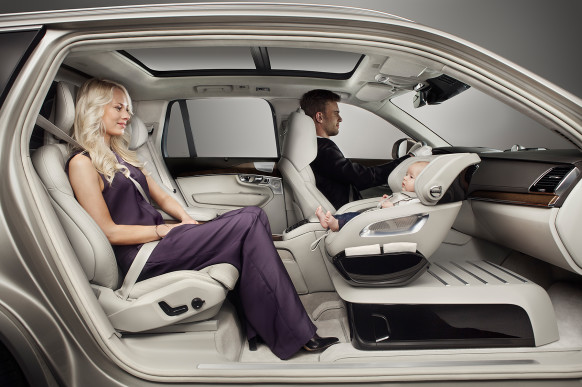 While the new designs are only a concept at the moment, the company has released video of how it would work.
Not only does the seat swivel for easy access, the capsule also slides back and forth and can be laid back to allow a baby to sleep.
Underneath, a draw provides additional storage while a side tray allows for bottles to be stowed away.
They've certainly thought of everything, the only question is – do you think it will work?
Photos: VOLVO
Want more? Get more from Kyle & Jackie O!