Chrissy Teigen has stripped down for Women's Health UK's new issue, and talks about her body insecurities…
She joined a number of other celebrities and sportswomen who have done the same, and the Sports Illustrated model admits that she only works out so she can eat what she wants.
She's no stranger to nudity, as an active member of the #FreeTheNipple campaign, and the 29-year-old insists she always had to watch her weight.
"I've always had to watch myself," she told Women's Health UK.
"My family is not naturally thin and we put on weight quickly. I find low-carb works for me. Even when I eat healthy grains like quinoa I keep them to a minimum."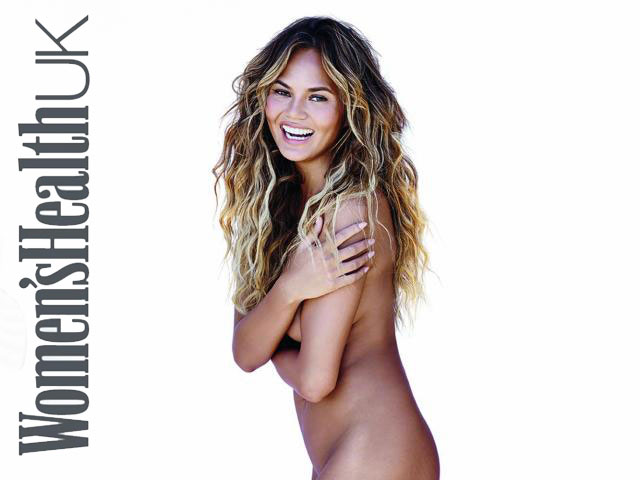 "I used to take pride in the fact that I didn't have to work out, and then I hit that age where you have to," she said.
"I want to drink champagne and have hearty dinners, so I would rather work out for an hour and be able to do what I want."
She admits that her problem area is her stomach.
"I've never seen an ab – ever – no matter how many crunches I do," she said.
"I would love to have a little fat on my sides so I can be sexy, curvy. I'd love a big butt. But I just can't get there."
She said she can't wait until she has kids with her husband John Legend, so that she doesn't have to worry about pregnancy weight.
"I'm waiting for things to slow down, but things don't seem to be slowing down, ever, so I think, 'Just have one and deal with it.' I'd love to have an excuse to be bigger. People will know as soon as I'm pregnant because I'll stop drinking."
She's no stranger to body confidence when she tweeted a pic of her stretch marks a few months ago…
Here's our favourite Instagram pics of the inspiration for the song All Of Me, taken from Chrissy's amazing Instagram…
Want more? Get more from Kyle & Jackie O!