If there's one thing that could annoy people more than a vegan who keeps going on about their lifestyle in your face 24/7.
Then it is this guy.
We are talking about Alex Lambert, the former head chef at the Littleover Lodge Hotel in Derby, England, who will probably never be stepping foot back in a kitchen again after what he said he did.
It all began when Mr Lambert,30, got into a spitting contest with a vegan on Instagram.
Lambert posted an old vegan joke ''How do you know if someone is a vegan? Don't worry, they will tell you.''
In a response this, someone who Lambert describes as a ''militant vegan'' saw the post ''And began commenting, saying I should go get heart disease and I will be responsible for the death of my daughter by feeding her animal products.''
"I lost my temper, which I think is understandable given her comments, and said something completely stupid with the sole intention of pissing her off. That is all it was."
What he told the woman was ''being a vegan is a minority'' and she should ''find a better way to spend your time, my personal favourite is feeding vegans animal products and them not knowing.''
She then replied with ''Hope you get caught one day, would love to see that …. Enjoy the heart disease :)''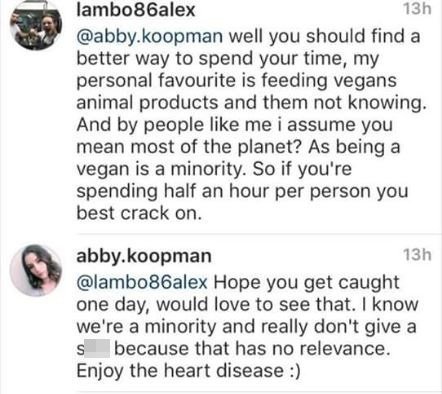 It didn't stop here, as many bad reviews were left on the Littleover Lodge Hotels web pages and the restaurant then suspended the chef saying he had spoken in a ''heated moment'' and the ''practice had never taken place.''
The hotel said ''We have investigated all accusations against Mr Lambert and found no evidence suggesting that any of these practices have been held at this hotel," the management said in a statement.
"However, due to the comments made by Mr Lambert regarding specific dietary requirements the company has decided to terminate his employment which has been done forthwith."
Mr Lambert replied to is hiring by saying "I have never in this time done anything like feeding a vegan animal products or slipped in contaminated food."
"My job has always been my passion and something I have always taken very seriously. It was a stupid comment said out of anger."
"For the record, I have no issue with vegans."
Just the matter of repairing your reputation with Vegans now, Mr Lambert…
Want more? Get more from Kyle & Jackie O!