We all know that Tinder has well and truly taken the dating world by storm. It's swept everyone up unexpectedly and become the norm for people looking for love.
Now, celebrities are even jumping aboard the Tinder train in the hopes of finding a special someone, the latest to come out and admit they're a huge fan being newly divorced Hilary Duff.
The mum-of-one recently went on Los Angeles radio show Valentine in the Morning and admitted, "It's true, I'm on Tinder!"
The 27-year-old added that she's talking to "nine guys right now" but is unsure if any of them know of her celebrity status.
Duff split from her husband Mike Comrie last year admitted in an interview last month that she had realised that they were 'not the right match.'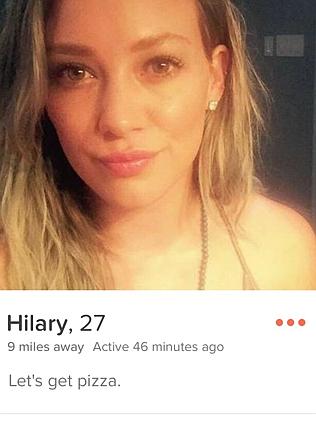 She then explained why she took to Tinder, "I was sitting with my friends one night at the house and we were joking around," she said. "In my life, I have always had really serious boyfriends. I've always met people through work and I have never been on a blind date. And so, what's the worst that could happen?"
Duff is the latest in a long line of celebrities who are said to use the app, including Leonardo DiCaprio, who apparently goes by 'Leonard, Lindsay Lohan (who accidentally stumbled across her brother on the app!) and even hunky Chris Pine, who has expressed an interest in joining the app.
Katy Perry and MARRIED Lily Allen have also been quoted as saying they love Tinder.
Scandalous!
Source: news.com.au
Love this? You'll love this bit from Will & Woody – catch the boys weekdays from 4PM on KIIS 1065