Bruce Jenner has come out as transgender.
In an interview with 20/20's Diane Sawyer, airing live in Australia on Sky News, Jenner confirmed the speculation that has been circulating for some time now.
"For all intents and purposes, I am a woman."
"My whole life has been getting me ready for this. It's not just the last few years, as they've been treating me, as a joke," Jenner explained.
Opening up to Sawyer, Jenner revealed he began transitioning to a woman when he was 40 – undergoing multiple surgeries as he began changing the way his face looked. He also revealed he had breasts from his hormone therapy when he married Kris Jenner.
Jenner confirmed this would be his last interview as Bruce.
"Bruce lives a lie.. She is not a lie. I can't do it anymore."
Jenner admitted the transition has been far from easy, admitting there was a time where he contemplated suicide when news first started to leak about his situation. He instead decided he needed to see how his story ends – a story that's just beginning.
Jenner described the mixed reactions from his family. Burt, Casey, Brandon and Brody Jenner were all incredibly supportive.
"I saw a sense of bravery, that for all your previous accomplishments, exceeds all of them," son Brandon said of the moment his dad told him about his transition.
"It's tragic. There's a thread throughout his whole life of a life he was wanting to live."
Brody expressed similar feelings. "The first thing I thought was 'It finally makes sense.'"
Reactions from the Kardashian family, however, were mixed with Khloe Kardashian taking it the hardest as she's already suffered a number of losses in her life including the death of her father Robert Kardashian and the breakdown of her marriage to Lamar Odom.
Bruce's ex-wife Kris Jenner recently tweeted her support… "Not only was I able to call him my husband for 25 years and father of my children, I am now able to call him my hero".
Not only was I able to call him my husband for 25 years and father of my children, I am now able to call him my hero.

— Kris Jenner (@KrisJenner) April 25, 2015
Rob, Kendall and Kylie were more understanding. "They all cried, mainly because they don't want anyone to hurt dad," Jenner explained.
"We love our dad very much… All we want is for him to be happy," Kendall and Kylie said in a statement. Jenner admitted the girls had once caught him wearing a dress, as had Kim Kardashian, but they never raised it with him.
Surprisingly, daughter Kim was the most accepting of all. "[Kourtney's] only concern is her kids," while Kim's turning point came after something husband Kanye West said to her.
"I can be married to the most beautiful woman in the world, and I am. I could have the most beautiful little daughter in the world, and I have that. But I'm nothing if I can't be me. If I'm not true to myself, it doesn't mean anything," Kanye reportedly said to Kim.
And her advice to Bruce? "Girl, you gotta rock it, baby!"
Rock it, he will, revealing his debut look as a woman: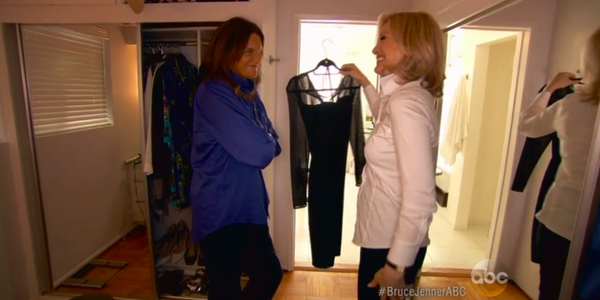 After his tell all interview, Jenner expressed his happiness as finally sharing this story with the world.
"If this is the only problem I've got in life I've got it made. I've got my health I've got my children I've got my family… I feel like I'm going to be okay.
"Have an open mind and an open heart. I'm not a bad person, I'm just doing what I have to do."
Lady Gaga has made a number of tweets in support of Jenner, which both Khloe Kardashian and Kylie Jenner have shared:
#BruceJennerABC Now that is bravery.❤️

— Lady Gaga (@ladygaga) April 25, 2015
I pray this Sawyer/Jenner interview will be met with compassion. This is an important world issue. #BeBraveEnoughToBeKind

— Lady Gaga (@ladygaga) April 24, 2015
We have the chance to write this moment in history together. Let's empower people like Bruce all over the world by being loving & not mean.💗

— Lady Gaga (@ladygaga) April 24, 2015
Want more? Get more from Kyle & Jackie O!