Would you cough up $3,000 to attend a friend's wedding? Well one bride-to-be has threatened to delete her friends on Facebook if they don't!
In an explosive rant posted to the woman's Facebook, this "bridezilla" has blasted her guests for refusing to splurge on her big day.
The anonymous woman, believed to be based in the US, has quickly gone viral after her post was shared to Reddit.
The post began by claiming that hardly anyone had RSVP'd and continued to slam her friends and family who were unwilling to fork out $3000 to attend her destination wedding in Thailand.
"At the risk of sounding entitled…I have to vent today," began the post. "When we invited our friends and family to our destination wedding in Thailand, only nine people RSVPs [sic]. Out of 150!!!
"Ok, I get it, paying $3K to share my special day is too much for some of you, I'd pay for yours, but whatever," she continued.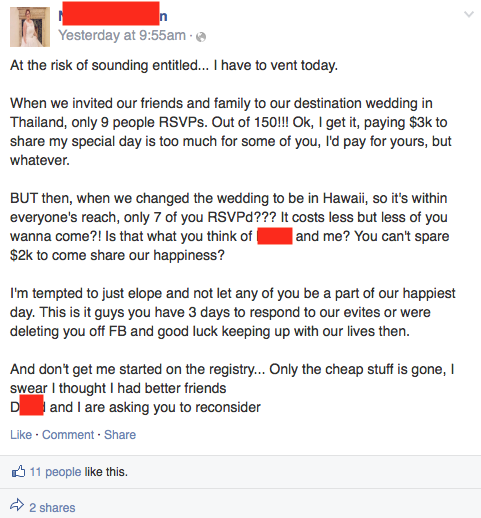 The woman went on to say that her and her husband, identified only as 'D', made the decision to change the location of their pending nuptials to Hawaii, which is closer to the US than Thailand.
This reduced the cost of the trip by about $1,000 but much to the brides horror instead of encouraging more people to attend, the change actually resulting in two more people dropping out!
"When we changed the wedding to be in Hawaii, so it's within everyone's reach, only 7 of your [sic] RSVPd???," the woman's rant continued.
"It costs less but less of you wanna come? Is that what you think of [D] and me? You can't spare $2k to come share our happiness?"
The woman concluded the rant by threatening to cancel the wedding altogether and elope instead, although we don't know whether too many people will be bothered by this threat, before giving guests an ultimatum: RSVP or be deleted from Facebook!
"This is it guys, you have three days to respond to our elites or we're deleting you off FB and good luck keeping up with our lives then," continued the bride-to-be.
"And don't get me started on the registry…Only the cheap stuff is gone, I swear I thought I had better friends. "D and I are asking you to reconsider," she finished.
Thousands of people have since been trolling the woman's rant on Reddit with many people pointing out how ridiculous her post was.
"At the risk of sounding entitled, your friendship is only worth the amount of money you will spend on me," wrote one person. "11 likes on the post, no other emotes. That speaks volumed about her circle of friends," added another.
Of course this woman is not the first bridezilla to be called out for asking too much from her guests. Last month a Canadian bride went viral who wanted her family and friends to pay $CAD1,500 each to attend.
When people refused the woman ended up calling off the wedding just days before the date and in an explosive Facebook post, blamed her friends and family for the breakdown of her relationship.
Want more? Get more from Kyle & Jackie O!