There's no day more exciting than your wedding day, but for Anna Bozman Thompson, it was a day that was incredibly bittersweet.
She was marrying the love of her life, with her two children by her side, but her eldest son, Lake, would not be there.
Lake died in May of leukaemia, just before his ninth birthday – and the family didn't feel right posing in family wedding photos without him.
Anna decided that she was going to do something about it – and she digitally included Lake in the photographs with her family, with have now gone viral.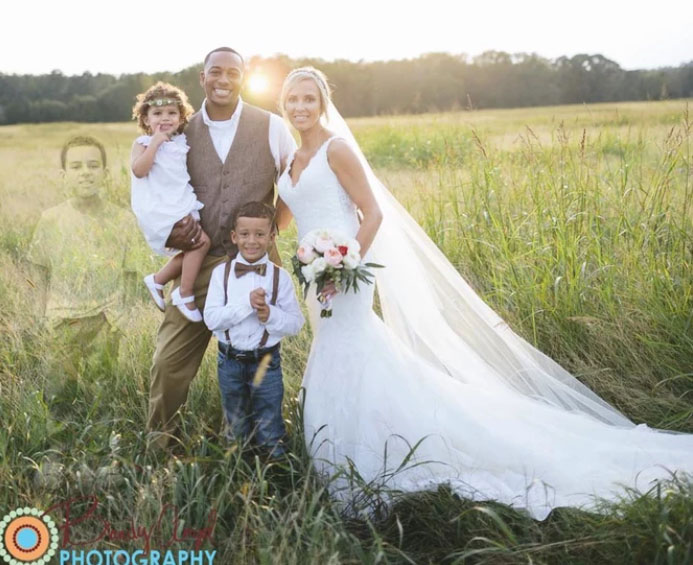 In the Facebook post which included the photo, Anna describes how she felt on her wedding day, just six months after losing Lake.
"Although I felt his presence that day and I was actually happy, it was almost unbearable to take family pictures without him. I could feel my emotions taking over after the ceremony when it was time to take pictures. I became anxious and almost irritated but I knew these pictures had to be taken."
The wedding photographer from the couple's big day, Brandy Angel, decided to create the image of Lake with the help of graphic artist, Paul Woodward, and photoshopped Lake into the photos with his family.
"[The photos] turned out beautiful and thanks to my amazing photographer she was able to get some special edits done. I needed this picture more than she or anyone could ever know. THIS is my family. And we will be together again," Anna said.
The dream (editing) team have offered to create photos like the one they made for Anna's family for anyone at no charge" via the Be The Change – Brandy Angel Foundation Facebook page.
Source: Bustle
Want more? Get more from Kyle & Jackie O!