If you didn't think the Justin Bieber peen pics saga could get any more awkward – you were wrong!
And this time, the drama involves Hollywood great, Bette Midler.
After Justin Bieber's dad tweeted about the nude paparazzi photos of his son (and made it super awkward), Midler has decided to call him out.
Jeremy Bieber posted this to his twitter: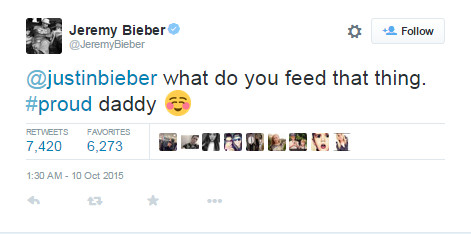 It says: "@justinbieber what do you feed that thing. #proud daddy."
Ew…
Bette Midler then tweeted this, dropping a truth bomb on everything…
.@justinbieber dad tweeted he's proud of his son's penis size. I think the biggest dick in this situation is the dad who abandoned his son.

— Bette Midler (@BetteMidler) October 10, 2015
Justin was raised by a single mother, and although he remains in contact with his dad, he's openly admitted that he didn't have the parental guidance he needed as a child.
She was just saying what everyone else was thinking.
Top Photo: Getty
H/T Mashable
Want more? Get more from Kyle & Jackie O!