Bebe Rexha has revealed that she is deeply "disappointed" in herself after posting a text message from her dad on Instagram.
The 29-year-old singer has shared a screenshot of a disapproving message she received from her dad, Flamur Rexha.
In the message, Flamur abruptly tells his daughter to "stop posting stupid pornography" and that he's "very upset" with her.
"You better stop posting stupid pornography because you make me sick," he wrote. "I can't take this anymore".
Her dad then went on to say that he is "embarrassed to go in public" with his daughter.
Bebe captioned the screenshot, "My dad hates me."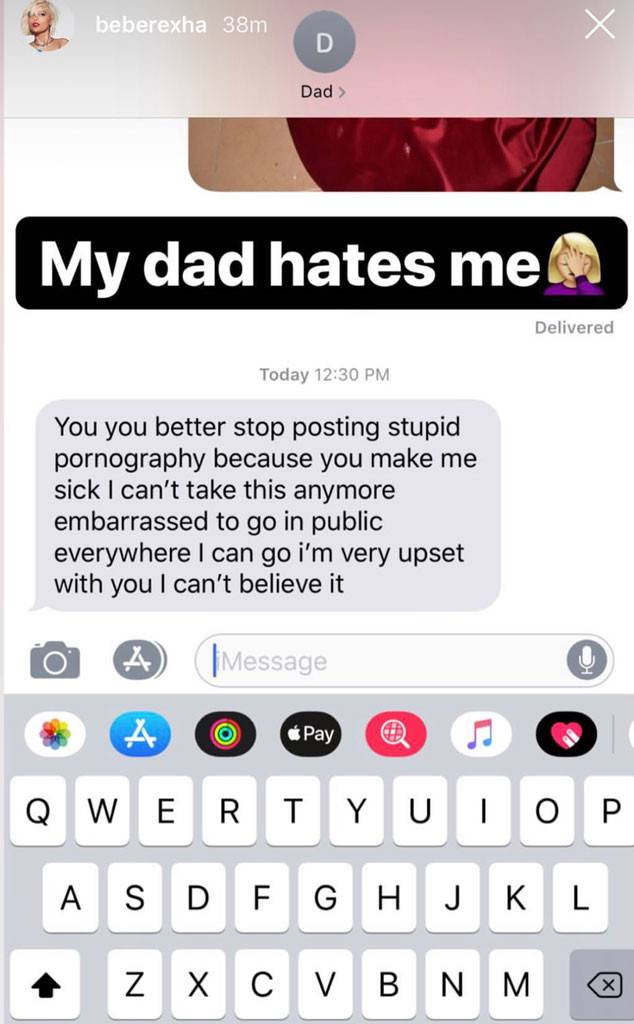 The Grammy nominated singer went on to delete the screenshot and took to Twitter to defend her dad after fans heavily criticised him.
"Don't say mean things about my dad please he is an amazing father," Bebe told her social media followers, adding that her dad is "not a bad guy".
"I should of never have posted that screenshot," she wrote in a now-deleted tweet. "I'm disappointed in myself. I was being sarcastic. I understand where he is coming [from] as a father and that's why the text was a bit harsh. I am upset that he still isn't speaking to me, but he is still my father."
The news comes just days after Bebe revealed that her "Last Hurrah" music video was flagged as "sensitive" on YouTube.
"My video was flagged as 'sensitive' on YouTube," she tweeted last week. "So it can't trend now."
"I am woman who is living unapologetically. I'm not gonna be made to feel bad about making ART," she added in a second tweet. "And yes art to me is my beautiful ass out, boys kissing boys, girls kissing girls, crosses on my body. IF A MALE RAPPER PUT OUT THAT VIDEO OUT IT WOULD BE FINE."
My video was flagged as "sensitive" on YouTube. So it can't trend now.

— Bebe Rexha (@BebeRexha) February 22, 2019
I am woman who is living unapologetically. I'm not gonna be made to feel bad about making ART. And yes art to me is my beautiful ass out, boys kissing boys, girls kissing girls, crosses on my body. IF A MALE RAPPER PUT OUT THAT VIDEO OUT IT WOULD BE FINE.

— Bebe Rexha (@BebeRexha) February 22, 2019
Trust me I bet people would rather go to a porn site to get off then watch my video. At least they will get full frontal on the porn site.

— Bebe Rexha (@BebeRexha) February 22, 2019
Love this? You'll love this bit from Will & Woody – catch the boys weekdays from 4PM on KIIS 1065