A Starbucks barista has faced huge online backlash for writing an 'inappropriate' flirty message on a teenager's coffee cup.
The coffee employee attempted to woo 19-year-old customer Laura Roberts with a message on her coffee cup by scribbling out part of the caution message, leaving 'Careful, you're extremely hot'.
Roberts' mother, Alex Blaine was unimpressed and branded the act 'creepy'.
Blaine posted a picture of the cup online with the caption 'Creepy barista writing inappropriate messages on my daughter's coffee cup. Looks like son-in-law material'.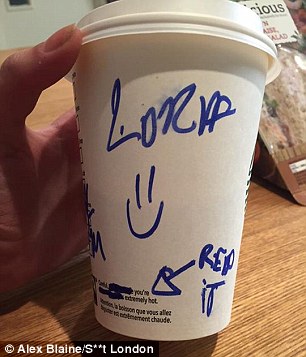 To make matters worse for the already embarrassed barista, Roberts is engaged to marry someone else.
Roberts is a regular at the North London Starbucks but has decided not to name the store so the staff member isn't embarrassed.
'It's my local Starbucks and he's lovely' she told MailOnline. 'He always does it.
'That day I sent a picture of the cup to my mum because she lives quite far away and she put the picture on Facebook.'
Blaine's post received many comments, including:
Would you like some creep with your coffee ma'am?
I'm sure he's fallen foul of some harassment laws there somewhere.
Roberts insists she was not offended by the message on her cup.
'He's a lovely boy, I don't find it creepy and I didn't feel intimidated'.
Source: DailyMail
Love this? You'll love this bit from Will & Woody – catch the boys weekdays from 4PM on KIIS 1065