He's the bookies favourite tipped to win Angie Kent's final rose, however Carlin Sterritt made a surprising confession last night during The Bachelorette that may change the game completely.
The 30-year-old fitness trainer from Sydney won the coveted yellow rose which saw him secure a 24-hour date – the first single date of the season.
However, just a few minutes into their romantic camping trip, he dropped a huge bombshell that shocked Angie – and Australia… He's still married!
"I'm the kinda guy who wants to be open and transparent," Carlin had told her; "I am … married."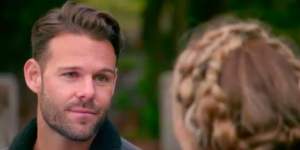 He went on to explain that while he's been separated for a year and a half, he still technically has a wife.
"We drifted apart. And I was pretty hurt in the process. She's moved overseas now so for me it was like I've closed that chapter of my life."
"We filed for divorce and stuff and I suppose that's the last stage of that," he said.
Despite blowing her away on the red carpet and sweetly serenading her at the first cocktail party, Angie seemed instantly smitten. However, following his revelation, Angie admitted that it "threw a spanner in the works."
"The bloke's bloody married!," she exclaimed after.
However, she didn't seem too concerned by the candid confession in the end, with Carlin still managing to earn himself a rose and the first kiss.
The Bachelorette continues Wednesday night at 7.30pm on Channel 10
Want more? Get more from Kyle & Jackie O!