As many of us know, the world is a little bit of a darker place the day after Trump took out the Presidency.
Americans were so fraught with fear, the Canadian immigration site crashed, with thousands of people wanting to jump ship and start a life in a land where Trump didn't rule.
One Australian man is offering a unique exit strategy for anyone trying to migrate.
Sydney's Jack Dostine used a Facebook trading group to target US citizens opting to migrate over living under the new Trump Government.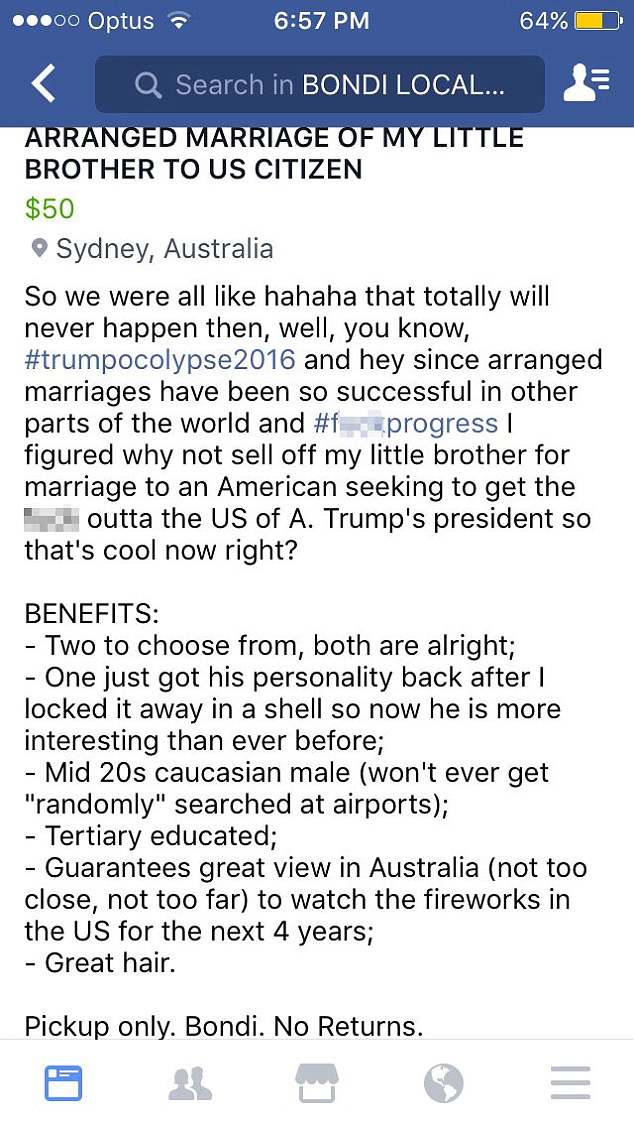 Dostine is selling his brothers Lewis and Edward – who are both 'tertiary educated, mid 20s caucasian males' with 'great hair' – for the competitive price of $50 a pop.
'Since arranged marriages have been so successful in other parts of the world and f*** progress I figured why not sell off my little brother for marriage to an American seeking to get the f*** outta the US of A. Trump's president so that's cool now right?' he wrote.
Guarantees great view in Australia (not too close, not too far) to watch the fireworks in the US for the next four years' The post was uploaded less than an hour after Trump shattered expectations on Tuesday with his shock White House victory.
Source: Daily Mail
Love this? You'll love this bit from Kyle & Jackie O!