Your wedding day is supposed to be full of love, fun and special memories – not bickering, unsatisfactory photos and copious amounts of abuse.
Yet that is what one bride, Ashlea Howard (and her husband Daniel) has endured ever since she received her photos from her photographer of her February wedding.
The photographer, Lee Maxwell Judd, is a local builder who has been covering weddings as a hobby for 20 years. He was chosen by the couple because of his experience and because he was from the Highlands, near their Berrima wedding venue.
Mrs Howard told the Daily Telegraph things started to turn ugly at the reception when she claims Mr Maxwell Judd started to drink.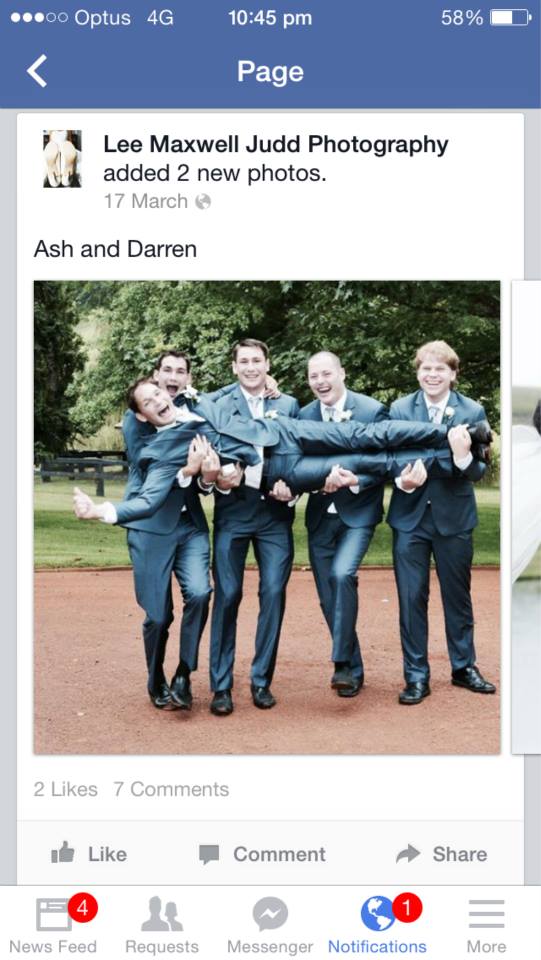 "He was heavily drinking at the wedding," she said.
However, it was after the couple received their wedding photos from the photographer that things turned ugly.
It seems that a USB stick with hundreds of the couple's photos from their big day were mistakenly sent to a different Ashley and then began to become abusive once the mix-up became apparent, telling Mrs Howard to 'get her head checked'.
After apologising for the mix-up and his comments, the couple finally received their photos from Judd – but were bitterly disappointed with them.
"There are some OK ones, however an album comprises an overview of the entire day," she said.
"We are missing quality photos of large chunks of the day due to blur and overexposure. Mainly outside at the ceremony and the bridal/family dances."
The couple then demanded a refund from Judd, to which they were met with abusive comments – and even the wrong name used for the groom.
He also posted an offensive comment about Mrs. Howard below a photo of the couple that he uploaded, "Ugliest bride I have ever photographed. Winged the whole time. Bridezilla #1.
After the comments began to become obscene, with the use of the f-word and the c-word used constantly, Mr Judd revealed to The Daily Telegraph that his page had been hacked and that he wasn't responsible for the post.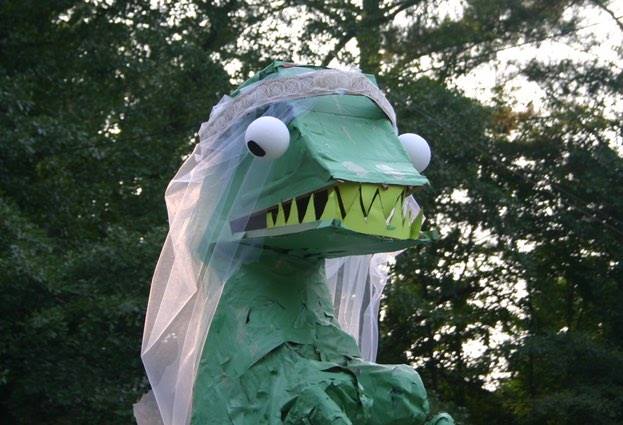 However, the abusive, disrespectful comments didn't stop – even with friends of the couple took to Judd's Facebook page to express their disappointment and sadness for the couple.
Despite the drama, Mr Maxwell Judd said he wasn't particularly fazed by the whole affair.
"I couldn't care less to tell you the truth," he said.
"Since all of that's happened I've had a lot of hits on my page and I've had a couple of inquiries and a deposit paid," he said.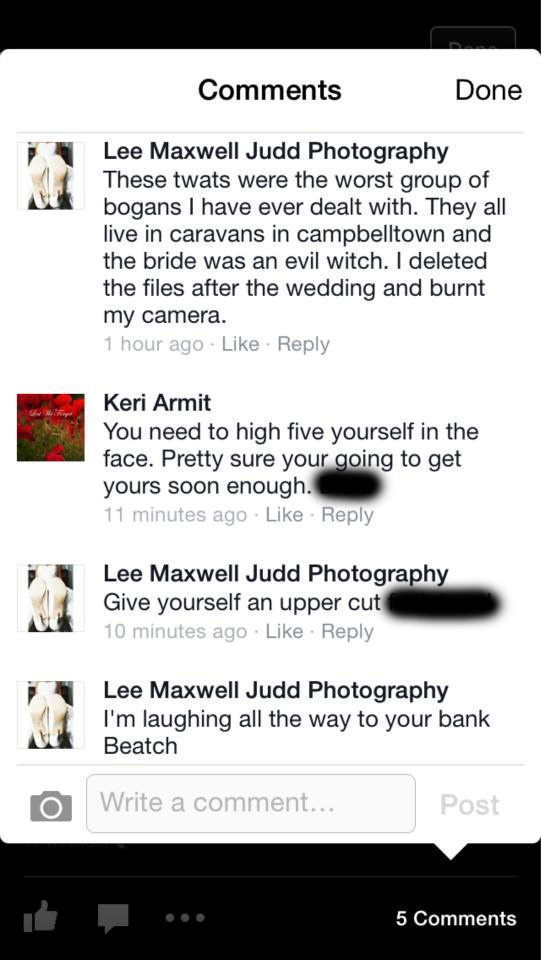 Mrs Howard told The Daily Telegraph that they are currently weighing up their options and getting advice from other photographers before deciding whether to fight for a refund.
"Once we get the true feedback from the photography industry we will decide if a refund is warranted," she said.
Source: The Daily Telegraph
Want more? Get more from Kyle & Jackie O!