ASOS IS BEING PRAISED ONLINE FOR USING A MODEL WITH BACK ROLLS

Social media has rejoiced at the sight of the model ASOS picked to show off a Missguided maxi dress with an open back.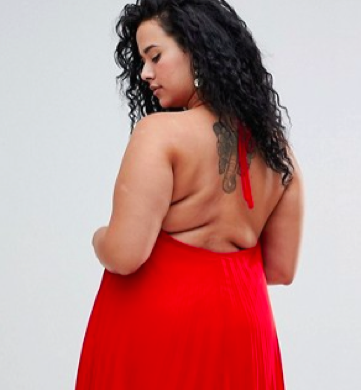 The reason for everyone's praise wasn't so much that the model was plus size, more that the dress not only revealed her tattoo but her perfectly ordinary back rolls.
Sure, a photo of a woman with back rolls shouldn't be a big deal, but in an industry which often portrays taut, toned bodies, it makes for a refreshing change.
Every time I see a roll on a model it's like YAS QUEEN YOU ARE BEAUTIFUL INSIDE AND OUT YOUR BODY IS A TEMPLE AND I WORSHIP YOU which is a fairly normal response I feel

— Rowan (@RowanKitchen) May 31, 2018
ASOS has always been pretty good with showcasing diverse body types and the internet is totally backing them.
I love seeing chubby models. I want to see more bodytypes to show how the clothes look on non traditional hourglass shapes. I wanna see back rolls and bat wings. I wanna see apple shapes. I love it!

— NoirExperiences (@noirexperiences) June 1, 2018
Want more? Get more from Kyle & Jackie O!