Break ups are tough, but they're particularly difficult when you're one of the most talked about couples of 2018.
ariana grande has covered her infamous 'pete' tattoo with a band-aid!
During their five month relationship, Ariana Grande and Pete Davidson got a whopping 12 tattoos in honour of each other. One of Ariana's was "Pete" inked on her ring finger.
If your mind immediately went to the tattoos following news of the split, you're not alone. During a recent recording of a segment for NBC's "Wicked" musical special, Ariana's ring finger was conveniently covered by a band-aid.
Take a look for yourself…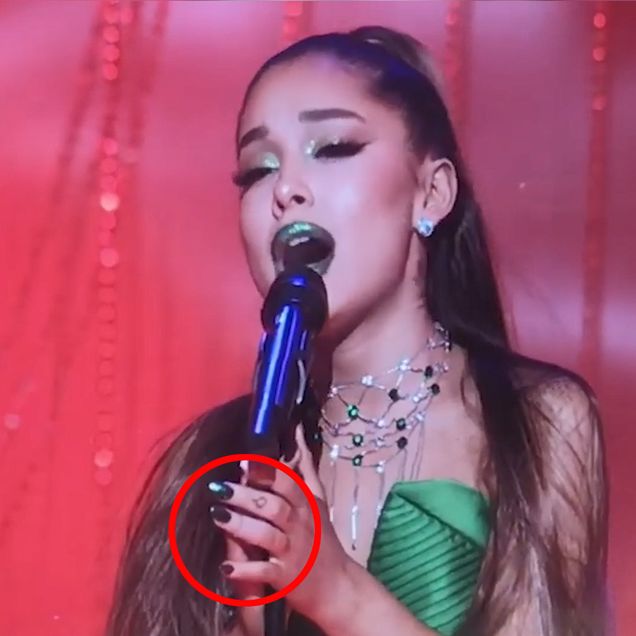 Many have speculated that the 25-year-old got the tattoo removed or covered up, resulting in her having to wear a Band-Aid for protection.
GRANDE ALSO WASN'T WEARING HER $100,000 ENGAGEMENT RING, REAFFIRMING THE SPLIT.
Shortly after the performance taping, Grande took to Instagram again and hinted that she'd be taking a break from social media.
"ok today was v special and i'm so grateful i was able to be there," Grande wrote on her Instagram Story. "time to say bye bye to the internet for just a lil bit. it's hard not to bump news n stuff that i'm not tryna to see rn."
"it's very sad and we're all tryin very hard to keep goin. love u. and thank u for bein here always."
The moral of this story? Maybe don't get a tattoo of your significant other's name?
Love this? You'll love this bit from Will & Woody – catch the boys weekdays from 4PM on KIIS 1065