Your bookshelves might be hiding a $126,000 secret!
Harry Potter may have made J.K. Rowling very rich over the past 20 years, but could it make you rich too? It's time to check your bookshelves because a first edition copy of Harry Potter and the Philosopher's Stone was just sold for £68,812 at an auction in London this week. That's $126,841 Australian!
What is the "First Edition" though? How do you tell if you have $126,841 sitting on your shelf?
Apparently only 500 "First Edition" books exist; and 300 of those went to libraries, so your odds are slim; but here's what you need to know to see if your book could score you the big 6 figures:
The 1997 First Editions are a hardcover, that means if you saved a couple of bucks back then by buying the cheaper paperback, you might only be seeing four figures.
The First Edition is credited to "Joanne Rowling", before she started using "J.K. Rowling" on her books. In the same spot you see that you should also see a print line that reads "10 9 8 7 6 5 4 3 2 1".
The two quickest ways to tell though, are a couple of more eye-catching oddities; first is that the book title is misspelled as "Harry Potter and the Philospher's Stone" (note that missing 'o' in philosopher) on the inside cover. The second is the wizard on the back; most copies have the beloved Professor Albus Dumbledore, but the first few editions feature a random wizard based off Illustrator Thomas Taylor's father.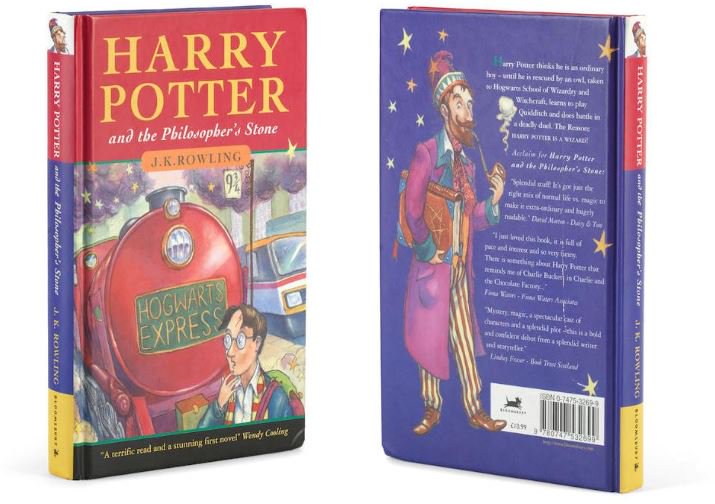 The book that scored 6 figures at the auction apparently belonged to Christopher Little; Rowling's literary agent who scored the publishing deal with Bloomsbury, so it has a little more going for it than the average First Edition. Not to worry though; other First Editions have still sold for as high as $37,000, and the Australian First Edition has been seen hitting four or five figures, depending on their condition.
It might not score you as much of a fortune as J.K Rowling herself made, but perhaps it's time to crack open your old books to see if you have a small fortune waiting for you there.
Want more? Get more from Kyle & Jackie O!