It seems that people are pretty passionate when it comes to people not being able to voice their opinion.
That became obvious when a petition was started stating that people who had signed it would NOT be watching The Project until Steve Price received an apology on air.
At this stage, over 18,000 people have signed the petition. It comes after columnist Jamila Rizvi was invited onto the show to discuss the election of Donald Trump.
The friendly discussion quickly turned sour as Steve Price voiced his opinion and Jamila quickly interrupted him.
'Well what that shows you is the people in real America, small town America, weren't buying the bulldust coming out of the elites,' Price began to say, before he was cut off by Rizvi.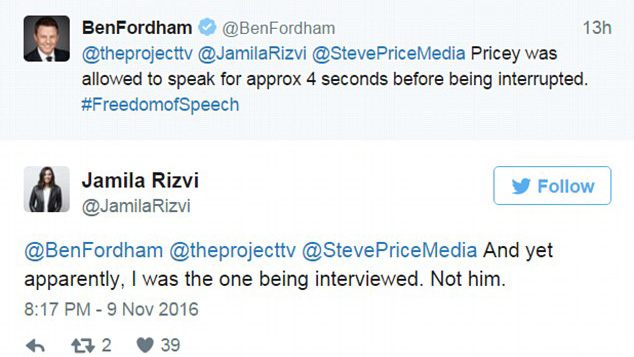 'Sorry can we cut this bull**** about the idea of there being a real America,' the news.com.au columinst said.
Price attempted to jump back in, however his efforts were ignored as Ms Rizvi continued to lambaste Price's idea of a 'real America'. 'All America is real – and the question I believe was to me – if you live in a city or you live in a small town you're still American,' she said.
Once Ms Rizvi had finished talking, Price then went on the attack.
'This is the reason why Donald Trump won, because people like you lecture and heckle people,' he said.
Clearly taken aback by Price's comments, Ms Rizvi 'apologised' as the studio audience let out a collective 'woah', before host Carrie Bickmore intervened.
'Pricey, we were talking to Jamila and you don't need to keep that tone,' Bickmore said.
'I apologise, I thought I was on to be interviewed, so…' Ms Rizvi said.
Never one to back down from his views, it was the former shock jock Price who had the last word against Kevin Rudd's former media assistant.
'Well I thought I could speak without being interrupted, but anyway, carrying on,' he said.
Source: Daily Mail
Love this? You'll love this bit from Kyle & Jackie O!