On the 25 June Naomi Oakes' world was turned upside down.
After noticing excessive bruising on her legs and torso, the 11-year-old's parents took her to the doctor where she underwent blood tests.
The next day they were told to take her to the local children's hospital "ASAP".
A bone marrow biopsy revealed Naomi had Acute Myeloid Leukemia (AML).
Characterised by an overproduction of immature white blood cells which prevent the bone marrow from making normal blood cells, Naomi was told she would have to spend the next nine months in hospital to undergo intense therapy.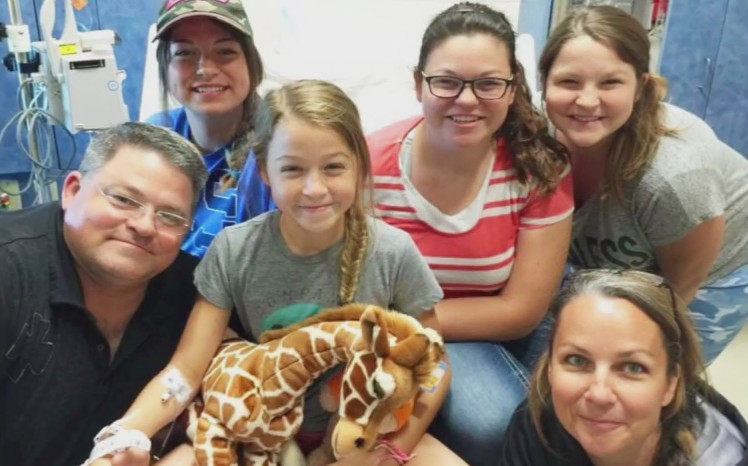 Sadly for the massive Taylor Swift fan, the battle meant another big sacrifice. She would no longer be able to see her idol perform in Arizona this August.
Unable to leave the hospital, Naomi was forced to give up her tickets – a Christmas present she'd been looking forward to.
Now her parents are hoping to get the singer's attention as Naomi battles her own "Bad Blood".
Sharing a video on YouTube, they revealed their hope to get Taylor to share the #TeamNaomi hashtag on Instagram.
They also told how Naomi had adopted Taylor's latest hit as her own fight song.
Sharing her story on GoFundMe, Naomi's family are hoping to raise awareness of her plight and donations to help cover treatment.
According to her uncle, Brandon Adams, the family have already received a $2,000 medical bill in the first 48 hours with that amount continuing to grow.
In a message on the page, Naomi's father, Dan, shared that despite the battle they face, they're focusing on being positive for the moment.
"We are obviously scared and concerned for our girl, but she has been a trooper and is positive about getting better," he wrote.
"I think she has a hard road to travel, we are honored to be with her for the difficult journey."
Photos: YouTube/Getty
h/t 9news.com.au
Love this? You'll love this bit from Will & Woody – catch the boys weekdays from 4PM on KIIS 1065